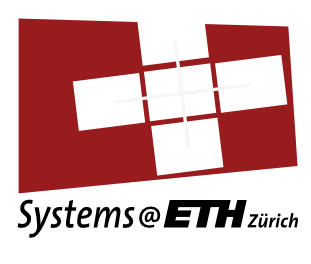 Reto Achermann
Research Assistant
Systems Group
Department of Computer Science
ETH Zurich
About Me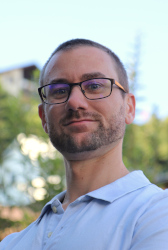 CV [a4.pdf] [letter.pdf]
Introduction
I graduated from ETH Zurich in 2014 with a MSc in Computer Science with specialization in Distributed Systems. Currently, I doing my PhD in the Systems Group, Department of Computer Sience, ETH Zurich. My advisor is Prof. Timothy Roscoe.
I am part of the Barrelfish team. Barrelfish is a research operating system with a distinct architecture called the multikernel. Barrelfish treats a single machine as a distributed system. My work involves several device drivers such as USB, DMA engines and the Xeon Phi co-processor. My key interest is how to program modern, heterogeneous multiprocessors. A multi-core is inherently complex showing many similarities to distributed systems. Therefore we need to treat multi-core machines as such and hence rethink the way we write software for a multi-core machine to account for interconnect networks, NUMA regions and even failures.
Biography
Reto Achermann holds a MSc in computer science from ETH Zurich and is doing his PhD in computer science at ETH Zurich where he is advised by Prof. Timothy Roscoe. He is part of the Barrelfish research operating system team, working on various subsystems such as memory management, capabilities, hardware abstractions, device drivers. Besides Barrelfish, he is also working on Sockeye which is a framework to formally specify hardware as seen by software and the Enzian platform, a research computer combining a Cavium ThunderX processor and a large FGPA connected by the native coherence interconnect. During his PhD he also did internships at VMware Research and Hewlett-Packard Labs.
Conference Papers
Mitosis: Transparently Self-Replicating Page-Tables for Large-Memory Machines.
Reto Achermann, Ashish Panwar, Abhishek Bhattacharjee, Timothy Roscoe and Jayneel Gandhi. ASPLOS '20. [ .doi ] [ .pdf ] [ .bib ]
Physical Addressing on Real Hardware in Isabelle/HOL.
Reto Achermann, Lukas Humbel, David Cock and Timothy Roscoe. ITP'18. [ .doi ] [ .pdf ] [ .bib ]
>> more papers
---
Journal Articles
---
PrePrint Papers
CleanQ: a lightweight, uniform, formally specified interface for intra-machine data transfer.
Roni Haecki, Lukas Humbel, Reto Achermann, David Cock, Daniel Schwyn and Timothy Roscoe.
arXiv:1911.08773. [ .doi ] [ .pdf ] [ .bib ]
Cichlid: Explicit physical memory management for large machines.
Simon Gerber, Gerd Zellweger, Reto Achermann, Moritz Hoffmann, Kornilios Kourtis, Timothy Roscoe and Dejan Milojicic.
arXiv:1911.08367. [ .doi ] [ .pdf ] [ .bib ]
>> more preprints
---
Patents
Transparent Self-Replicating Page Tables in Computing Systems.
Reto Achermann and Jayneel Gandhi. Pending. [ .www ]
Interoperable capabilities.
Reto Achermann, Maurice Bailleu, Dejan S. Milojicic and Gabriel Parmer. US20170329526A1. [ .www ]
Memory management with versioning of objects.
Izzat El Hajj, Alexander Merritt, Gerd Zellweger, Dejan S. Milojicic and Reto Achermann. WO2017131789A1. [ .www ]
---
Talks
Mitosis: Transparently Self-Replicating Page-Tables for Large-Memory Machines.
25th International Conference on Architectural Support for Programming Languages and Operating Systems. March 19, 2020. [ .pdf ] [ .video ]
Memory Topology Models and Their Application in Operating Systems.
Trustworthy Systems, Data 61, CSIRO, Australia.. February 25, 2020. [ .pdf ]
Faithful Hardware Representation and Least-Privilege Memory Management in Operating Systems.
Lab for Advanced Systems Research (LASR), University of Texas at Austin, USA. December 06, 2019. [ .pdf ]
>> more talks
---
ETH Zurich, Zurich Switzerland
November 2014 - present, Research Assistant
Prof. Timothy Roscoe. Operating Systems Research
Dissertation: On Memory Addressing - a more faithful hardware abstractions for modern operating systems.
Barrelfish: Member of the core OS team working on device drivers, memory management, networking.
Sockeye: Describing hardware as seen by software using a formal model specified in Isabelle/HOL
Shoal: memory allocation strategies in a NUMA machine with knowledge of the access patterns.
Smelt: automatically tuning message passing primitives to the machine hardware topology using measurements.
Enzian: understanding the coherency protocol for the Enzian research computer.
---
VMware Research, Palo Alto (CA), United States
June 2018 - September 2018, Intern VMware Research Group
Jayneel Gandhi. Project: Mitosis - Page-table Replication for Big Memory Machines.
Project: Mitosis: Transparently Self-Replicating Page-Tables for Large-Memory Machines.
---
Hewlett-Packard Labs, Palo Alto (CA), United States
September 2015 - December 2015, Intern Systems Software
Dejan S. Milojicic Consensus and Capabilties for The Machine
Project: Consensus protocols and capabilities for the Machine.
---
Doctor of Science (PhD) in Computer Science, ETH Zurich
November 2014 - February 2020, Advisor: Prof. Timothy Roscoe
---
Master of Science (MSc) in Computer Science, ETH Zurich
September 2013 - October 2014, Advisor: Prof. Timothy Roscoe
Specialization: Distributed Systems. Grade: 5.8 / 6.0 (with distinction)
Thesis:
Message passing and bulk transport on heterogenous multiprocessors [ .www ] [ .pdf ]
---
Systems Programming and Computer Architecture (252-0061-00L), ETH Zurich
Autumn 2019, Autumn 2018, Autumn 2017, Autumn 2016, Autumn 2014, Autumn 2013
---
Application-Oriented Programming (252-0840-02L), ETH Zurich
Spring 2019, Spring 2018
---
Advanced Operating Systems (263-3800-00L), ETH Zurich
Spring 2019, Autumn 2017
---
Reto Achermann
---
acreto [at] inf.ethz.ch
---
https://orcid.org/0000-0003-3263-7236
+41 44 633 70 15
---
Dept. of Computer Science
CAB E 69, ETH Zürich
Universitätstrasse 6
8092 Zürich
Switzerland